Set The RIGHT Price
For Your Home From The Start
because homes that sell fast also sell for the most money
Here's a fact you need to understand up front: Never attempt to price your home based on what you "want or need" to net out of the proceeds.
Selling a home quickly and for the right price is a balancing act: Price too high and you won't sell, but price too low and you may lose money. The stakes are high! This page explains how we can help you make the right decision.
Understand What The TOTAL Market Is Doing, And Get The FULL FACTS.
One of the biggest mistakes people make when selling homes is they rely solely on "local neighborhood market analysis information" to determine the right price to list their home. Buckhead Betty shows up with a "canned" analysis she took right off a computer screen. She typed in a few parameters, and out popped a report showing the homes that sold in your area. She put it into a fancy folder with their "Holier Than Thou Real Estate Company" name on it, and try to pass it off on you. In most cases, she didn't view the homes. She didn't call anyone. She doesn't know WHY one home sold for $105 a foot, and another sold for $89 a foot. She doesn't know how construction materials, siting, location, or other features have affected each home they just found. In most cases, she simply hasn't taken the time to do her homework. She just averages them all together and tells you that's what you're home's worth. Who is she kidding?!!
How Pricing Works
Experience shows that price accounts for 80 per cent of the effectiveness of any real estate marketing campaign. That's why it's imperative to price your Intown Atlanta home at fair market value right from the start. With this approach, you'll often find that the first offer on your home is your best offer.
the market is the only determinant of the value of your home
There's an old saying in real estate: "Sellers are NOT the deciders of what their home is worth, but they ARE the deciders of how quickly their home will sell." The REAL value of your home is what a willing buyer will pay for it, and what you will accept. Nothing more. Nothing Less.
The figure below illustrates that only homes priced at market value (or below) appeal to the largest group of buyers. Over pricing your Intown Atlanta home shrinks the prospective buyer pool by more than 50 per cent. It further illustrates that a property priced just 15 per cent above the market value appealed to none of the qualified buyer pool.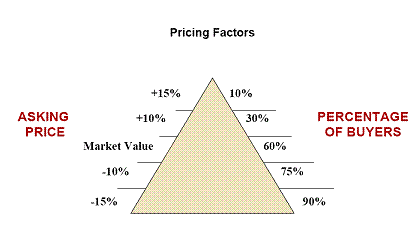 Time on market can also significantly impact the value of your home. Your property will attract the most interest from buyers and real estate agents when it first appears on the market, with activity decreasing as the market time increases As the chart shows, the most opportune time to generate a sale on your Intown Atlanta home is three to seven weeks after listing it with a real estate agent.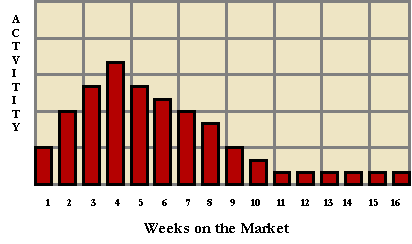 Contact the Keen Team anytime for more information on how to effectively price your Intown Atlanta home.