Which Home Improvement Projects Increase Home Value… and Which Ones Are a Waste of Money?
Posted by The Keen Team on Monday, July 13, 2015 at 9:08 AM
By The Keen Team / July 13, 2015
Comment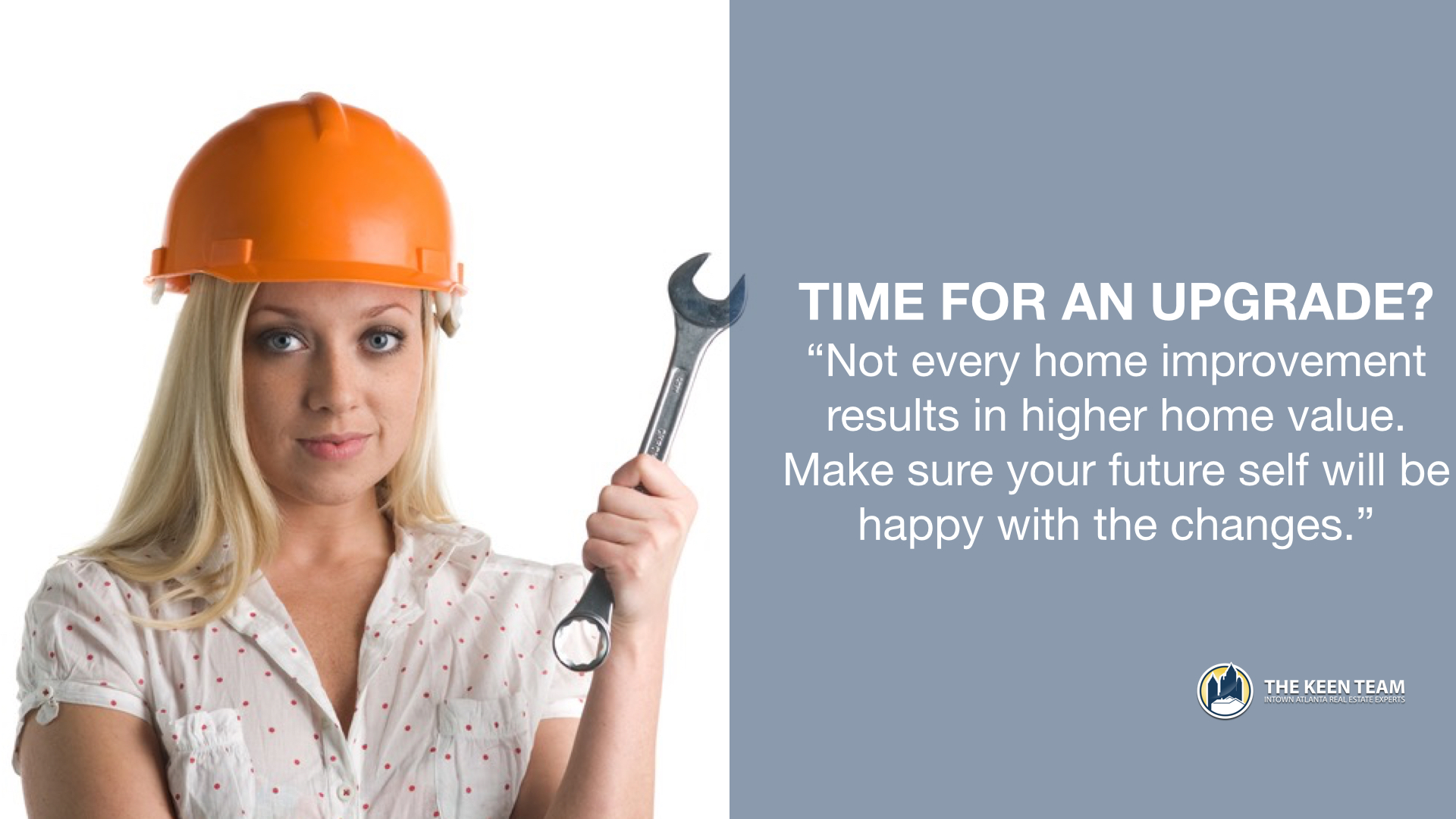 Making a major change to your home?
Before you splurge five figures, think about how your update will impact your home's eventual re-sale value.
An upgrade that seems like an awesome idea now (like turning your garage into a giant ball pit for the kids) could come back to haunt you when you put your home on the market ... and find the market doesn't like what you've done with the place.
If you've got a renovation or new project on your wish list, take a look at the following first to make sure your future self will remain happy with the changes.
Go For It
A new roof – Roofs are expensive, and if yours is on its last legs, you better believe a home inspector will let potential buyers know. A leaky roof should be fixed immediately, for your own safety. If your roof has a few years left in it, wait to replace it till just before you're ready to sell. "This roof was redone only last year" is music to a buyer's ears.
New windows – New windows can give your whole home a facelift, inside and out. They increase curb appeal and let in more light than dingy old installments, making your rooms brighter and cheerier. Plus a bright, shiny new window frame does wonders to update your space. Opt for energy-efficient windows for maximum punch.
Bathroom and kitchen remodels – Real estate agents are known to say that bathrooms and kitchens sell a house. A well-appointed bathroom or kitchen will make your home stand out in buyers' minds, while an outdated, shabby one can tank their opinion of your house. You don't need to spend a ton to make a big impression—a new coat of paint, new fixtures, updated flooring and re-surfaced cabinets can work wonders. (Adding a dishwasher if there isn't one is also a big turn-on for buyers.)
New flooring – Shiny new hardwood flooring perks up a room. Refinish your original wood floors if possible. If not, you'll find plenty of high-quality laminate that looks just like the real thing at a fraction of the price. Bonus tip: bamboo looks as sleek as hardwood, for a fraction of the price.
Bedroom additions (sometimes) – If your home already has 3 or 4 bedrooms, adding an extra one probably won't turn many buyers' heads. But if your home is on the small side, a bedroom addition can boost you into the next level of listings (and, as a result, the next tier of asking prices).
Bathroom additions – A half-bath on a floor without a bathroom, or an extra full bath in a house with multiple bedrooms, can often net you a respectable return. No one wants to fight for a spot at the sink in the mornings.
Curb appeal – Buyers can be picky. If they pull up to your home and don't like what they see on the outside, there's a good chance they'll move on rather than venturing indoors. Invest in new vinyl siding and/or painted brick, an updated front door and basic landscaping to make your home look cheerful and well-maintained.
A deck or patio – Plenty of people enjoy entertaining and unwinding in outdoor living spaces. Even if your lot is small, adding a new deck or patio can create a gathering space for lounging, grilling and dining and instantly create added value.
Finished basement – Your basement isn't a buyer lure if it's dark, dank unfinished space. Regardless of whether you upgrade the basement into a family room, updated laundry room, in-law suite or rental property, a finished or partially-finished basement adds more usable space to your property and makes buyers enjoy a larger home.
Basic maintenance – When potential buyers tour your home, you don't want them to start calculating the costs they'll have to deal with when they take possession. Is your furnace or hot water tank old and inefficient? Is your heating bill literally through the roof because there isn't enough insulation in the attic? Fix these problems upfront. Your buyers will appreciate the peace-of-mind.
Skip It
Over-improvement - High-end-everything might make sense if your home is in an expensive zip code. Otherwise, don't make things so nice your house no longer fits the neighborhood. Buyers shopping in a mid-range suburb are looking for decent homes at a decent price, so your private home theater, granite countertops and high-tech shower—and the higher asking price that goes along with them—probably won't impress like you think they will.
Additions (if the square footage gain is incremental or the room is not highly usable) – A sunroom in a region where it's snowy half the year won't get you much return on your investment. Neither will a tiny half-bath crammed onto the first floor right next to the kitchen (a proximity no one finds terribly appetizing).
Room conversions – Regardless of whether you use a particular room or not, buyers in your neighborhood are looking for houses with standard features. Turning that garage into a rec room or that extra bedroom into your own personal humidor won't help your re-sale value.
An in-ground pool – Pools require a lot of maintenance and can also pose safety issues for families with young children. You're likely to turn off plenty of potential buyers if you install one.
Anything too personalized or custom – Buyers need to be able to envision themselves living in your home, and that's hard to do if your home screams "you." Contain personalization to removable décor only. If you love bright colors, for example, add this to your kitchen in the form of dish towels, pots and pans and other accessories rather than installing a hot pink backsplash.
Final Thoughts
Not every home improvement results in higher home value. You're free to update your home for your personal enjoyment to your heart's content. Just be aware that some upgrades won't recoup their costs.