Top 9 Pedestrian-Friendly and Bike-Friendly Atlanta Neighborhoods
Posted by The Keen Team on Monday, October 1, 2018 at 1:20 PM
By The Keen Team / October 1, 2018
Comment
The neighborhoods in central and surrounding Atlanta offer a unique compilation of small-town charm with city-center access. Atlanta is a vibrant city with fun activities, art exhibits, and great local businesses.
If you love living in a close-knit neighborhood, and enjoy the ability to walk or bike to anything in the city, check out these top nine pedestrian and bike friendly Atlanta neighborhoods.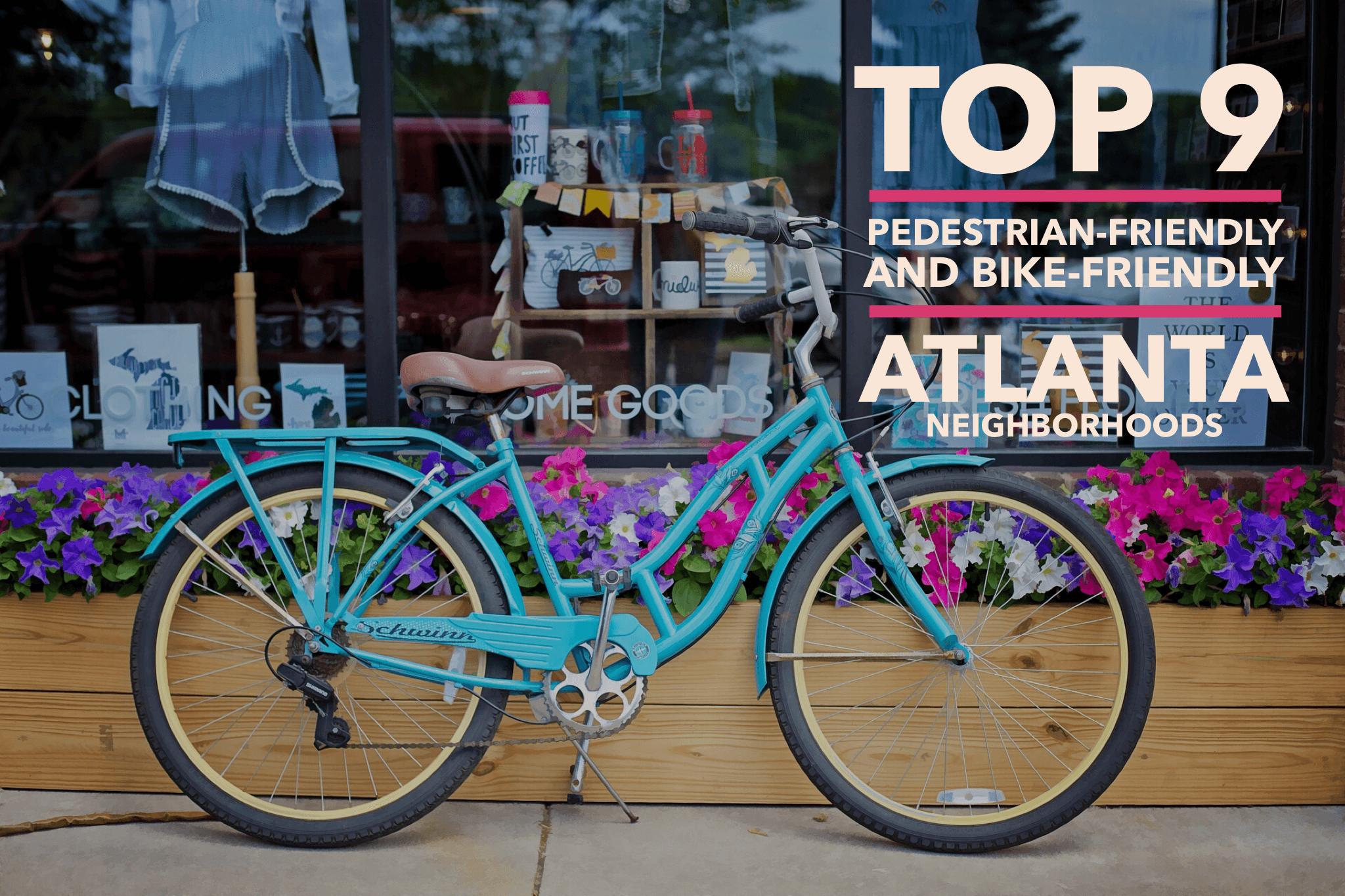 1) Midtown
Midtown, Atlanta is an epicenter of family fun, shopping, dining, and local events. It is known mostly for being the "heart of the arts" for the Southeast. With 25 different arts and cultural venues and 22 entertainment facilities, you'll never run out of fun and diverting performances to attend.
Midtown is also great for accessibility, since it has four miles of bike lanes, with six miles in development, and 14 miles of new sidewalks. Midtown also has access to public transit options.
2) Virginia Highlands
Virginia Highlands, known as "VaHi," is a historic neighborhood with a unique design. VaHi has four commercial "villages" which are all connected by pedestrian and bike-friendly blocks, lined by historic bungalow homes. The main "square," so to speak, is the corner of Virginia and Highland, where you'll find people strolling around some of Atlanta's best restaurants, bars, and shops.
If you like finding your creativity in a neighborhood café, eating gelato, and walking to yoga class, VaHi is the perfect place for you.
3) Inman Park
You'll find historic Inman Park just two miles east of downtown Atlanta. The first planned community in the city, Inman Park boasts large lots, curving streets, and many open park areas. The area has both big, beautiful mansions and smaller homes. The Inman Park Neighborhood Association has an annual three-day festival which brings thousands of people to the area for food, music, and historic tours of homes.
4) Cabbagetown
Cabbagetown is an edgy, hipster, and art-driven community famed for the Krog Street Tunnel. With many of the mill buildings and warehouses turned into loft communities, Cabbagetown offers a unique urban lifestyle with easy access to the city center.
5) Reynoldstown
Historic Reynoldstown is a beautiful and pedestrian-accommodating neighborhood which is close to the Atlanta Beltline. It is known for its eclectic mix of local businesses and art-inspired projects and youth activities. In Reynoldstown, it's easy to walk to any number of the local cafés for coffee or lunch with a friend. Also, the Atlanta Beltline runs through the neighborhood, instantly connecting it to the surrounding areas.
6) Little 5 Points
Little 5 Points lies just less than 3 miles to the East of downtown Atlanta. Although it originated as the commercial district for the Candler Park and surrounding areas, it's now a thriving home to many diverse cultures. Little 5 Points has been called the melting pot of the South East and is comparable to San Francisco's Haight-Ashbury district.
Little 5 Points has a Bohemian subculture, a pedestrian-friendly neighborhood, and easy access to all of the surrounding neighborhoods.
7) Candler Park
Candler Park is a National Register of Historic Places neighborhood that lies just 5 minutes east of downtown Atlanta. A family and pedestrian friendly area, Candler Park is home to talented artists, eclectic local shops, and one of a kind bars.
The actual outdoor Candler Park itself offers trails, playgrounds, pavilions, and vast grassy areas to play. Freedom Park, one of the largest parks in Atlanta, lies within the Candler Park Neighborhood. It hosts outdoor sculptures and is a popular destination for biking, jogging, and dog walking.
8) Decatur
Decatur is a quintessential college town and thriving neighborhood that is home to 18,000 residents within four square miles. Besides several colleges that call Decatur home, there are also restaurants, art galleries, and independently owned businesses. Decatur is known for its walkable, tree-lined streets, college campuses, parks, and libraries. Decatur connects to the MARTA rail station as well, so inter-neighborhood travel is easy. Decatur is also a hub for bicyclists who love to use the Decatur trails.
9) Oakhurst
Oakhurst is a historic neighborhood originally developed as a streetcar suburb of Atlanta. It lies southwest of Decatur in DeKalb County, GA. The Oakhurst area has beautiful public parks and a well-known community garden. Oakhurst is also known for its excellent school system. The East Lake MARTA train station is within close walking distance, making surrounding Atlanta neighborhoods easily accessible. Also, Decatur and its nightlife are just one mile away.
Neighborhoods Along the Atlanta Beltline
The Atlanta Beltline is a new outdoor space that runs through the heart of the city, connecting some of the most densely-populated neighborhoods with exclusively pedestrian and bicycle pathways.
Although the project isn't complete yet, the Beltline will eventually cover 22 miles of unused railroad tracks that circle the city's core neighborhoods.
Even in its limited state, the Atlanta Beltline offers access to trails, walkways, bike paths, open spaces, and cultivated parks and gardens. It's the urban, artistic and cultural lifeline of the city.
The Atlanta Beltline is also home to the Art on the Beltline project, the Southeast's largest public art project. Many unique restaurants, cafés, and performers flank the Beltline, which means you can easily stroll from your home to hundreds of restaurants, bars or shops along the path.
Midtown, Virginia Highlands, Inman Park and Cabbagetown are all located along open sections of the Beltline. If you're looking for a pedestrian-friendly area, just call the Keen Team and tell them you'd like to live "walking distance to the Beltline." They'll help you find a great home in a fantastic neighborhood.
Vibrant Atlanta
Whether you're looking for urban artistic, bohemian hipster, upscale uptown, or family friendly, Atlanta's neighborhoods all offer a variety of unique flavor and charm.
No matter which neighborhood you choose, you will have access to walking and biking trails, independently owned businesses, and vibrant art and culture.