The Risks of 'For Sale by Owner' and 'Lease-Purchase' Agreements
Posted by The Keen Team on Monday, August 17, 2015 at 3:47 PM
By The Keen Team / August 17, 2015
Comment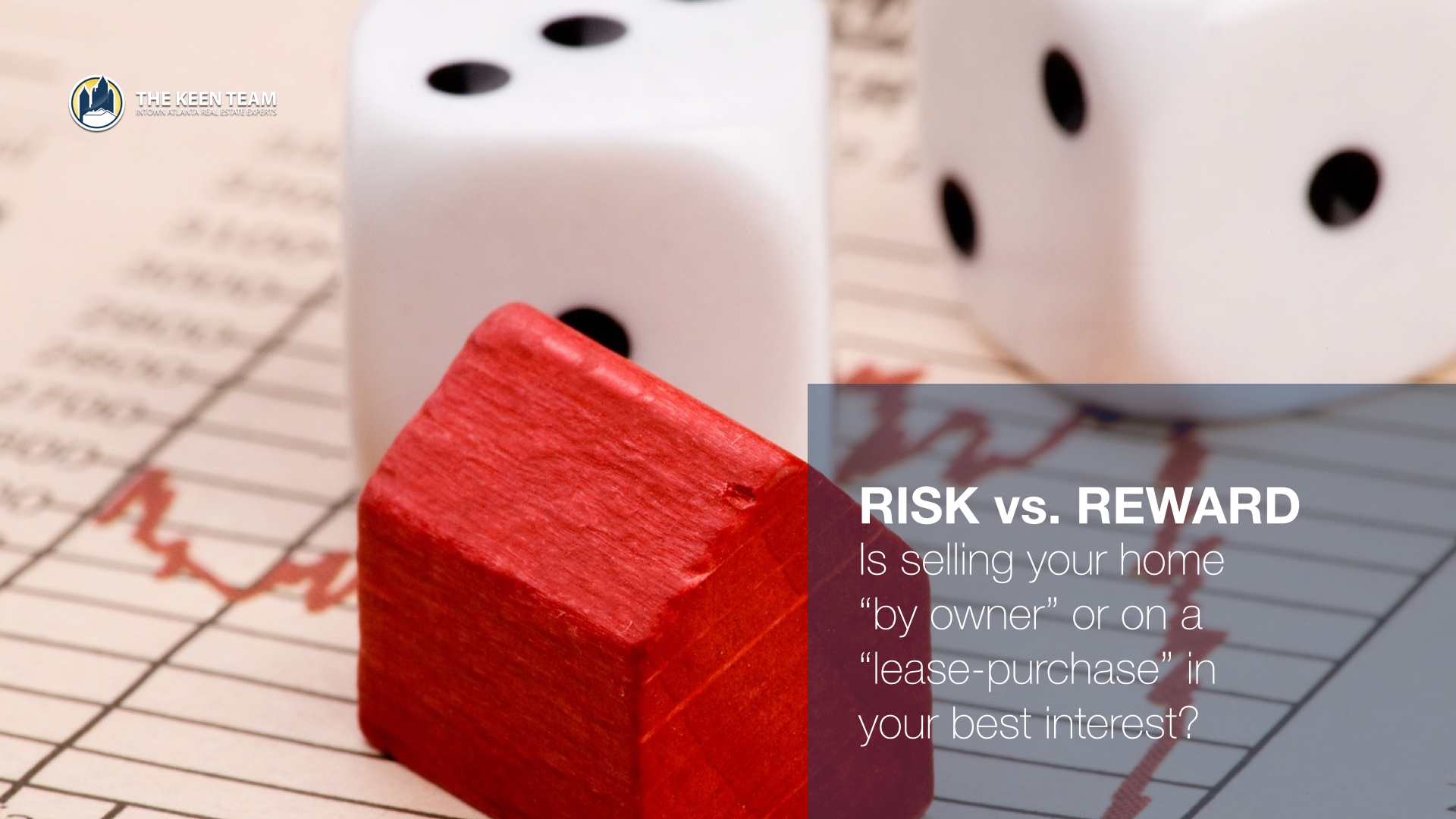 If you're thinking about selling your home, you might be entertaining two outside-of-the-box ideas: listing your home FSBO (for sale by owner) or renting out your home on a lease-purchase (or lease-option) agreement.
But both of these options are more complicated than meets the eye.
In this article, we'll walk through the nuances of both of these choices to explain some of the risks that you may not have considered.
In fairness, we'll also elaborate on the benefits, too, and give you tips if you're considering making a move in one of these directions.
The Risks of FSBO
At first glance, selling your house yourself seems like a money-saving idea. After all, you won't have to pay a commission on a listing agent.
But being your own real estate agent isn't as easy as it may seem.
For Sale By Owner (FSBO) transactions accounted for 9 percent of home sales in 2013, but the typical FSBO home sold for almost $50,000 less than agent-assisted sales, according to the National Association of Realtors.
Of course, we think hiring a real estate agent is the best way to sell a home. But we also realize that FSBO sales appeal to some sellers and buyers.
Here are the rewards and risks of selling your home yourself.
FSBO Rewards
In a hot market where houses practically sell themselves, FSBO transactions might seem appealing.
Reduced commission. Your buyer is likely to be represented by a buyer's agent, to whom you may owe 2 to 3 percent when the deal is done. But you'll save another 2 to 3 percent on a listing agent, minus the costs of listing the property on the MLS.
You make the decisions. If you trust your own judgment and experience, then you may be able to make important decisions yourself, such as price, contingencies and timeline. The only problem: There's no learning-curve time, and just one simple mistake can cost you a significant sum.
Your property is your top priority. You can pour all your energy into marketing this one listing –papering the neighborhood with fliers, talking up the sale at block parties and PTA meetings, putting ads on Craigslist.
FSBO Risks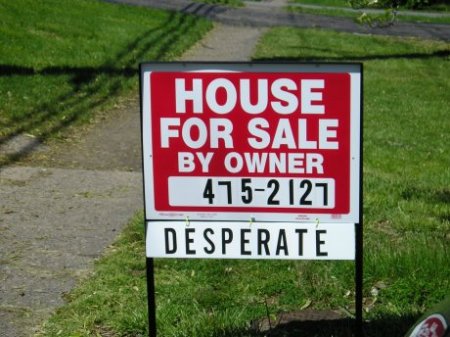 There are many risks associated with FSBO, however. Would you take out your own appendix? Or would you hire a surgeon who's trained for years and taken out hundreds?
The point is, selling a house is not your field. And even though you could probably Google any problem that arises, consulting Wikipedia for solutions to home-selling challenges probably won't serve you as well as a real estate agent who solves these problems for a living.
Here's what you're putting on the line.
Listing your property for too much or too little. One of the most valuable skills a real estate agent brings to the table is an understanding of your market and knowing what price a home is likely to fetch.
Without that knowledge, you could price your property too high, and buyers won't even walk through the door. Or you might price it too low, and rob yourself of thousands of dollars. (The commission for an agent can more than pay for itself, many times over, if it spares you from the risk of under-pricing your property.)
While you're fiddling with the price, your listing is getting stale – after about 90 days -- when the likely pool of buyers has moved on.
Missing out on selling venues. Some selling venues, like the Multiple Listing Service, are reserved for real estate agents only. Discount agents, who offer services a la carte, will put a listing on the MLS for you, but this likely will cost you between $500 and $1,000 and doesn't include any other services that will help you attract a buyer and close a deal.
You won't save as much money as you think. FSBO sales don't come free for sellers. You may have to pay a buyer's agent commission, buy For Sale signs, pay for ads, pay a professional photographer to take eye-catching marketing pictures, hire an appraiser to help you set your price, and use a real estate lawyer to help you close the deal.
Before you know it, you've spent thousands trying to sell a house yourself. And that doesn't count the value of the time you've spent learning how to price, market and close a deal on your property.
Fouling up paperwork. Filling out a real estate contract is tricky, and doing it wrong could cost you thousands of dollars. It can even cost you the sale. Real estate agents know what property details you must disclose, saving you headaches and lawsuits down the line.
Negotiating closing issues. Closings rarely go smoothly. Someone hasn't cut the right check, or the last walk-through has been delayed. A million things can go wrong to rock the closing boat. A good real estate agent has been there, handled that. This experience that could mean the difference between closing the deal or watching a buyer walk away.
We're not saying that FSBO deals can't save you some money. But The Keen Team's years of experience and accumulated knowledge can make your sale go more smoothly and likely for more money.
And if you love do-it-yourself projects, you don't need to resort to FSBO to enjoy a little DIY. Instead, build a garden bench or plant a garden, which will enhance curb appeal.
Your Primer on Lease-Purchase Agreements
If you're trying to sell your home, should you consider offering a Lease with the Option to Purchase?
Otherwise known as a Lease-Option, a Lease-Purchase, or simply Lease-option, this is an agreement between a seller and a renter that gives the tenant the exclusive right of first refusal to buy the home and a predetermined price at a specific time.
In other words, the renter gets the option to purchase the home ... hence the term, "lease-option" or "lease-purchase."
On the surface, these agreements sound like a good idea, especially for tenants who are having trouble coming up with a 20 percent down payment or qualifying for a mortgage, or for sellers who are worried about finding a buyer.
But when you scratch the surface of this lease-purchase option, you find a financially risky deal that should be entered into with caution – for both the renter and the owner. Here's how.
What's the Deal
In a lease-option deal, the owner promises to sell the property to the renter for a specified price after a certain period of time. Some or all of the rent goes toward the purchase price or closing costs, depending on the terms that the two parties negotiate.
Sometimes, the renter pays a nonrefundable option, often 2 to 7 percent of the purchase price, a fee that gives them the right to buy on X date. If they don't, they usually forfeit the option fee.
Lease-option deals usually are struck when a seller is having trouble finding a qualified buyer, or a buyer loves a property but can't raise the funds or, because of work or family issues, can't commit to buying at the moment. Whatever the motivation, the deal can only work if the house appraises for the stated price, and the tenant is a good credit risk.
Lease-option Pros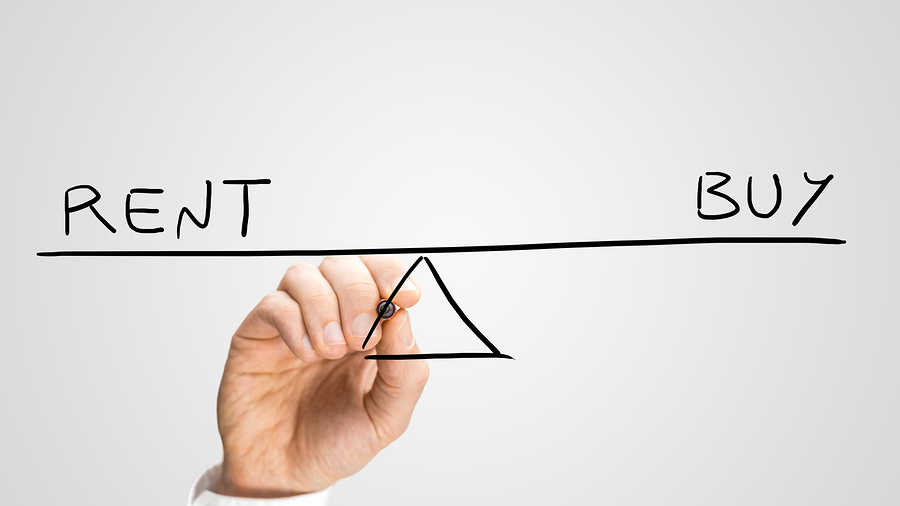 Sellers and buyers enter into lease-option deals for good reasons.
Buys Time: Lease-option gives buyers time to secure funds or repair credit problems that stand in the way of obtaining a mortgage. The deal also lets sellers get the price they want for their property, even if it might take time to close the deal. It lets buyers "lock in" a specific price, which can be advantageous in a soaring market.
Builds Equity: Since part of the rent goes toward purchasing the home, renters will be building equity in the house before they own it – presuming they go through with the sale.
Provides a Risk-Free Trial: Renters get a chance to live in the home and get to know the neighborhood without making a full commitment to the property.
Locks in a Price: A buyer agrees on a price today for a purchase down the road, which can be a smart move if the value of the property rises. If the value dips, he can walk away.
Take Better Care: A tenant who may become the next owner will probably take better care of the property then a tenant with no vested interest.
Sellers Secure Some Funds: If a seller already has bought another home, but can't move his current property, lease-option will provide a monthly cash infusion that can help him manage two mortgages.
Sellers Can Take Advantage of Tax Breaks: If a seller needs to own a home for X number of years to qualify for some tax advantages, renting-to-own buys him time without draining his coffers.
Lease-option Risks
Of course, some real risks attend lease-option deals, or everyone would strike one.
Booming Markets: Rising markets are tough on sellers, who must honor the pre-determined sale price regardless of what the property is worth at the closing date.
On the other hand, a buyer can walk away if the value of the property drops.
Above Market Rent: Tenant-buyers most likely will pay more to rent the place than if they were merely tenants.
Forfeit Option Fee: If the renter does not end up buying the property, he will lose his option fee and waste the higher rent he paid all those months while he was hoping the purchase went through.
Credit Worthy: Repairing credit isn't easy. And would-be buyers who couldn't qualify for a mortgage initially may still have trouble getting an approval at the end of the option period. Meanwhile, the house is, say, two years older and sellers must start from scratch looking for a qualified buyer.
Lease-option Tips
If you decide to go through with a lease-option agreement, here are a few tips to guide you through the process, regardless of whether you're a seller or renter.
Put all terms in writing – monthly payments, what percentage goes to purchase, date of purchase, who pays for inspections, appraisals and surveys.
Hire a real estate agent familiar with lease-option deals to help you negotiate terms, whether you're the renter or owner.
Use a real estate attorney -- Hire an attorney to draft and review the agreement. Your real estate agent will be able to recommend a good attorney.
Under the right circumstances, lease-option deals can buy time for both buyers and sellers. But these lease/own deals can be complicated.
The Keen Team can help you weigh the pros and cons and make sure that lease-option is in your best interest. If it's not, the Keen Team can recommend alternatives that help you meet your goals.