How to Stage Your Home Like the Pros
Posted by The Keen Team on Monday, July 20, 2015 at 10:17 AM
By The Keen Team / July 20, 2015
Comment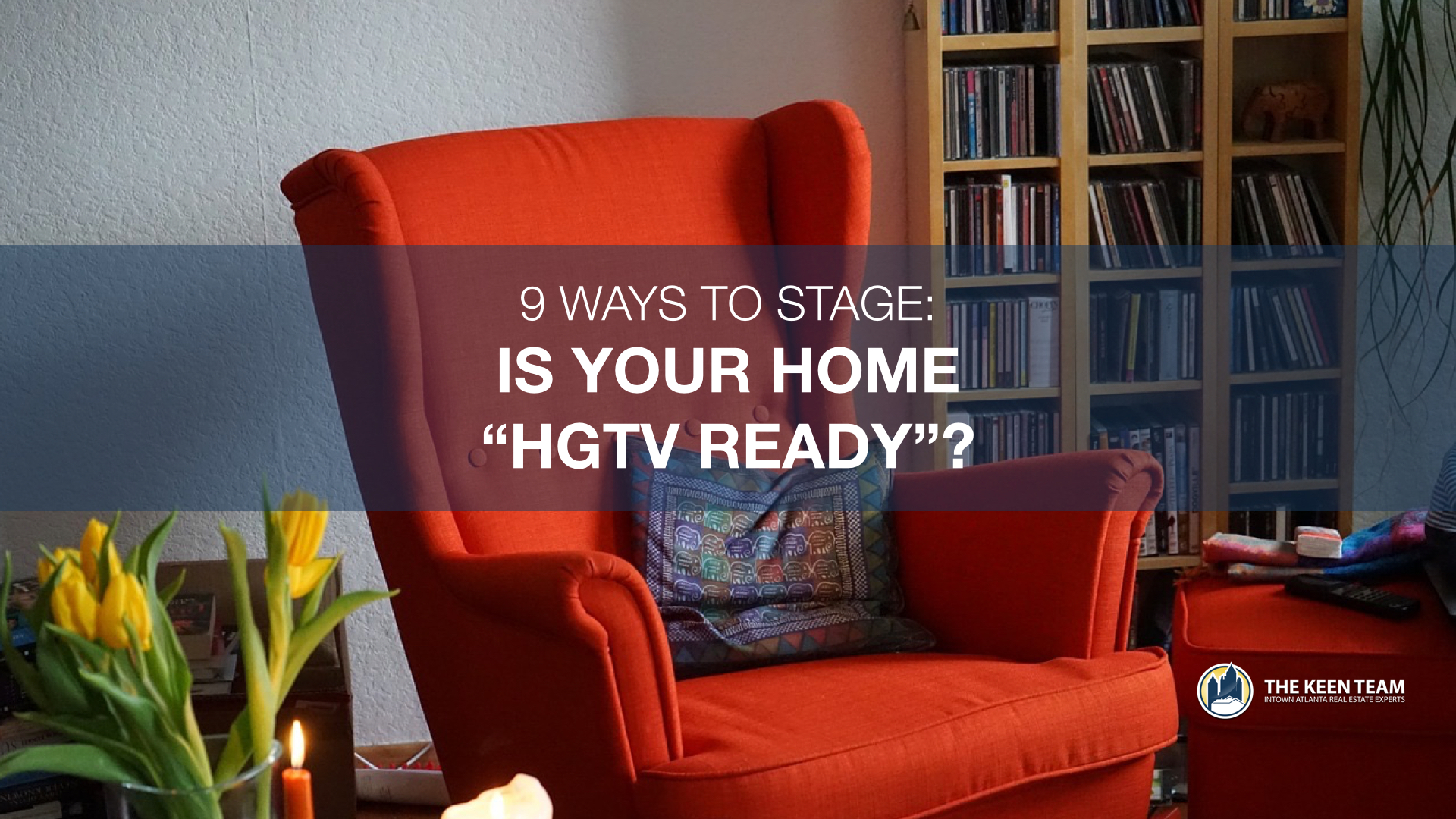 You've seen the house flippers on HGTV use staging techniques to make empty properties look lived-in, but as a homeowner trying to sell your house, you've already got plenty of stuff. Do you really need to bother "staging" it?
In a word: Yes.
According to the Real Estate Staging Association, professionally staged homes sell 73 percent faster and often garner a higher selling price. That's because staging is all about showing off your home's best features while eliminating or reframing as many downsides as possible. Just as you'd dress up a little nicer for a date you really wanted to impress, dressing your home up can help make potential buyers fall in love with it.
And you don't need to hire a professional to achieve results. Here are 9 great DIY staging tricks that can help you sell your home.
1. Tackle That "Honey Do" List
Buyers will notice most imperfections, from that leaky bathroom faucet to the basement door with squeaky hinges. Every small fix will add up in their mind, slowly chipping away at how impressive your home seems.
Give your house a once-over and make all of those little repairs you've been saying you'll do for months (or years) now. These won't take a ton of time (most likely you can knock it out in a power weekend), but they'll have a powerful effect.
2. De-Clutter and Organize
Messes detract from your home's great features, so de-clutter as much as you can and set up organizational systems that make everything look tidy and put-together.
Get rid of that pile of mail on the kitchen table, put playroom toys into neat bins and totes and donate those clothes in your closet you never wear anymore. Your rooms will feel more spacious, and buyers won't worry the clutter means your home lacks adequate storage.
3. Clean, Clean, Clean
Buyers will absolutely snoop through the cupboards underneath your sinks, open kitchen drawers and glance through your medicine cabinet. So in addition to the big things like cleaning the floors, give your home a thorough scrubbing from top to bottom, including every nook, cranny and crevice you can possibly access.
Not sure if things are clean enough? Imagine your critical mother-in-law is coming to visit for the first time, and ask yourself if everything would pass her white-glove test.
4. Let in the Light
Brighter rooms look bigger, cleaner and happier. So open the blinds or curtains (clean them if needed) and place lamps in any corners where natural sunlight is sparse. It can make a big difference.
(And you've got nothing to hide now that everything is spic and span, right?)
5. Create a Blank Canvas
Too much of your personal style can prevent a buyer from being able to picture themselves living in your home. So repaint the walls neutral colors, remove any personal items like kids' artwork on the fridge, and get rid of décor touches not everyone will enjoy.
You may love your leopard-print ottoman and your neon abstract artwork, but you can put it back up in your new home. For now, it's only a distraction.
6. Paint a Picture in Each Room
Another way to help buyers envision living in your home to use carefully arranged visuals to show them what a day in your home would look like. Think: little touches like a bowl of fresh fruit on the kitchen counter, place settings on your dining room table and a stack of fluffy, freshly washed towels on the bathtub.
These little things are what turn a house into an inviting home.
7. Do a Test Walk-Through
You may think everything looks great, but you don't get the full "potential buyer" experience until you try walking through your home like someone would during an open house. So, starting from the entrance, stroll from room to room as though you were seeing it for the first time and make note of anything that disrupts your tour.
You may find your furniture doesn't encourage good "flow" from room to room, so rearranging certain pieces will allow potential buyers to admire each room's best features rather than trying to navigate roadblocks.
As you tour, go through everything you'd investigate if you were thinking of buying a house (closets, drawers, medicine cabinets, etc.) to make sure you haven't missed any clutter or grime zones.
8. Don't Forget Smell
If you own pets, get your carpets steam cleaned and make sure to vacuum and "de-fur" the furniture religiously. (It's also a wise idea to arrange for Fluffy to be on a play date when buyers are due to come by.)
Use candles or plug-ins to evoke homey smells like fresh linen, vanilla and baking cookies. If you're a baker, an actual batch of freshly made cookies will definitely get you some bonus points.
9. Don't Neglect Outdoor Spaces
Staging isn't just for the interior of your home. Buyers want a house that looks nice from the curb with a yard where they can see themselves hanging out and relaxing. Spruce up your curb appeal with things like new plants, a freshly painted front door and a bench or swing on the front porch. In the backyard, create a great recreational zone with things like patio furniture, a lawn game setup and a newly painted deck.