523 Chevelle Lane, Decatur GA 30030
Posted by The Keen Team on Friday, April 25, 2014 at 12:07 PM
By The Keen Team / April 25, 2014
1 Comment
SOLD $633,850

"Designed in partnership by two sought after local Architects,this close-in
City of Decatur home strikes a perfect balance of traditional and modern design.
And wait until you see what you get for just $649,900."
CLICK HERE TO DOWNLOAD FULL PLANS

523 Chevelle Lane, Decatur GA 30030
Winnona Park
If you are not familiar with this back pocket of the neighborhood, it is in the "sweet spot" of Decatur's venerable Winnona Park School district. The drawback if you're looking to secure a home in City of Decatur right now is that many of the houses are measuring well over 3000 square feet with current "for sale" prices in excess of $725,000 dollars. But if you are of the philosophy that asks "Why pay for more home than you need?", here is your chance to snag a newly constructed home just shy of 3000 square feet for $50,000 less than it's closest competitor.
The investors funding the project - CC Investment & Renovation Associates - used a professional builder known for his work in Decatur & Kirkwood to construct the house, and the quality is evident everywhere. The home is built to last with long lasting, low maintenance materials — the exterior is hard (cement composite) siding and the roof is a 30 year architectural shingle with a lifetime warranty. The front door is solid wood with metal banding and hinges. And here is one of the telltale ways to spot quality— the interior room entry doors are solid wood — no "hollow core" used here. There are tall ceilings and a well designed interior space brings in lots of natural light.
Now, meet the architects, Robert E. Koch, Jr & Chad Kamke. Robert and Chad have become one of the most sought after design/build teams in City of Decatur with several projects currently under construction. Lucky for you ... 523 Chevelle is the first to hit market in 2014. A leader in their profession and community, Robert lives in Oakhurst with his wife Kristie and his infant son, James. Chad Kamke of CC Investment & Renovation Associates is also a long time resident of Oakhurst.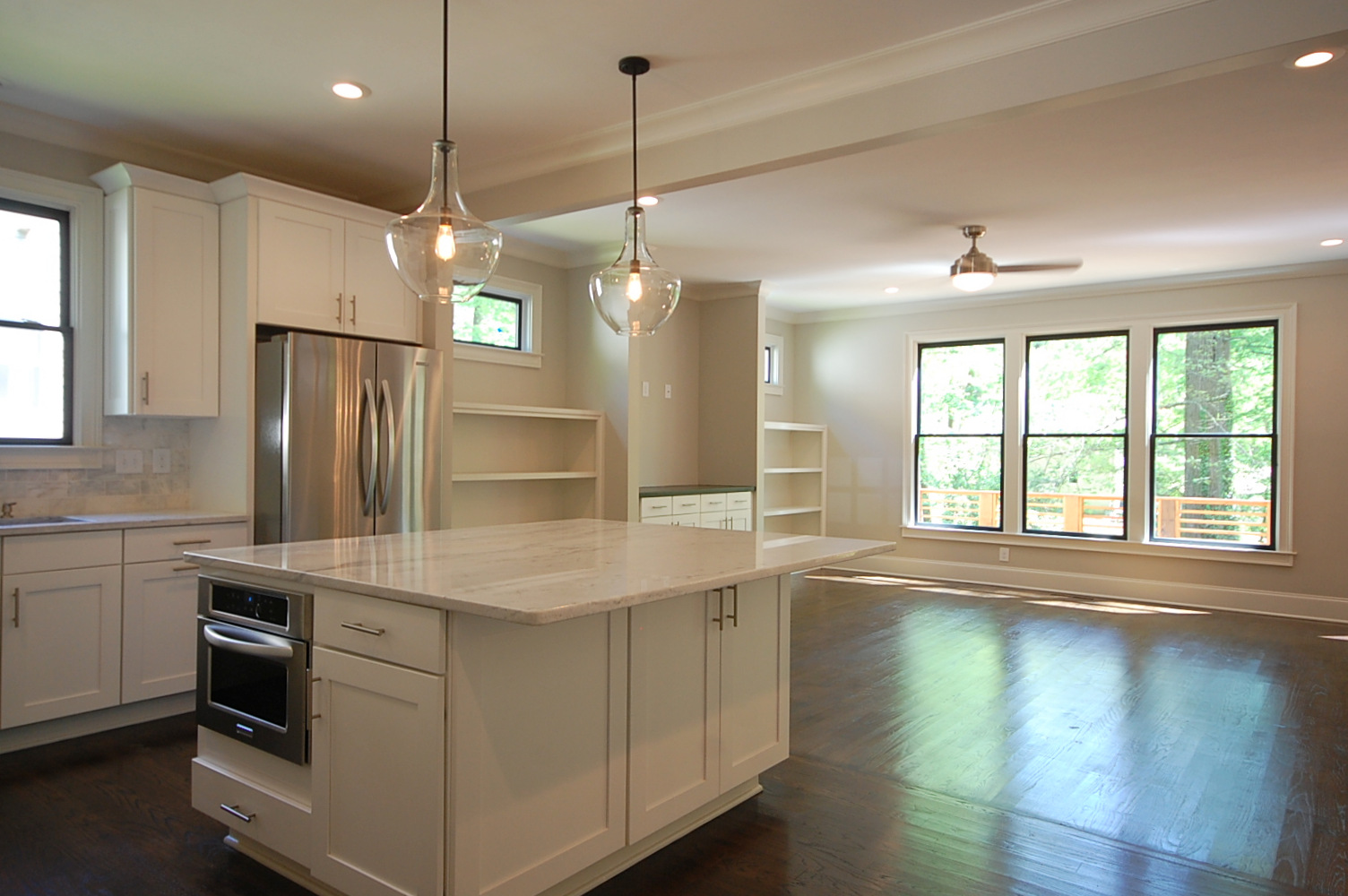 The house itself has about 2900 square feet of living space and includes a one car drive under garage, 5 bedrooms, 4 baths, a formal entry foyer, an over-sized great room with custom built in shelving, and separate laundry room upstairs. You can spill out on multiple outdoor spaces for extended seasonal living — there's a covered screened porch off the side that leads to a large wood entertainment deck off the back which overlooks a lush, private back yard awaiting your finishing touch. Two of the rooms are especially large. The master includes a private bath with a luxurious walk-in shower and double vanity.
Three bedrooms, including the master, are upstairs which has two advantages. If you have young children it is the preferred layout because you can hear them in the middle of the night if they get scared. The second advantage will become abundantly clear when you walk into the master bedroom — it's the epitome of a retreat and relaxation. It takes up the entire back side of the top floor and offers his/her closets and a spa-like master bathroom.
The fourth and fifth bedrooms, located on the first floor just off the entry foyer, offer multiple uses. If you have older relatives who will visit, but can't climb stairs, you can accommodate them here. Either space also makes for a quiet home office.
How'd you like to go on a nature hike & picnic
just across the street?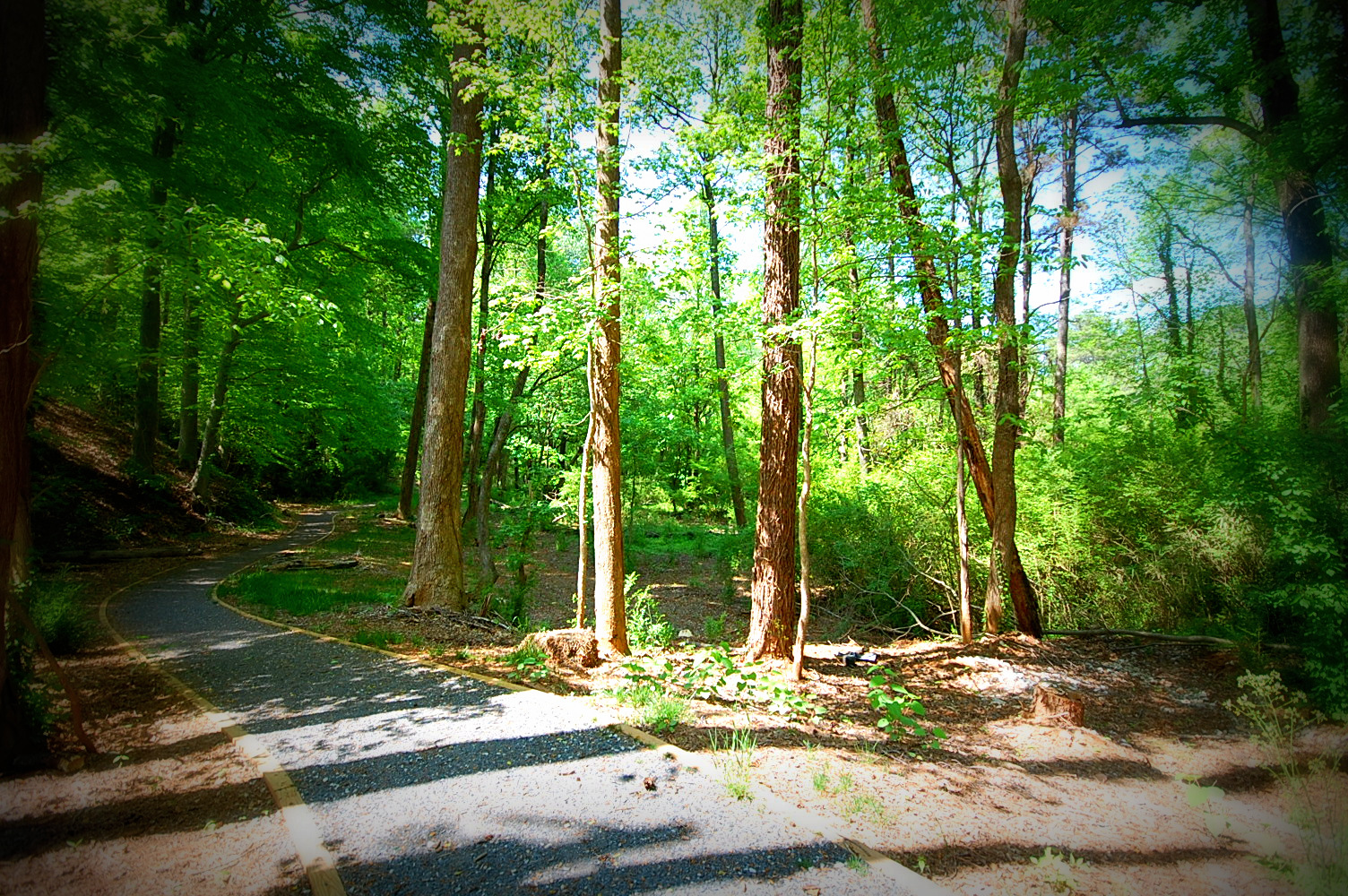 One of the reasons the location here is so compelling is the house sits just a few yards from the Chevelle Lane entry to Dearborn Park. Connecting Chevelle Lane to W. Deaborn Circle on the western border of the Midway Woods neighborhood - Dearbon Park offers 7 acres of green-space with a new boardwalk and gravel trail, court, picnic pavilions, running streams, and a newly installed playground. Dearborn Park has undergone a dramatic revitalization with the help of the local community advocates. This kind of setting is a wildlife magnet, and you'll routinely see songbirds, squirrels and the occasional beaver in the creek.
If there are young children in your immediate or extended family, do you have any idea how excited they would get if you made a big deal of taking them on a hike and weekend picnic just across the street? The expedition could start on the deck where you organize all the gear — a compass, canteen and some snacks and most importantly — "walkie talkies"! When everything is organized, your daughter can "radio" this message back to the house, "Alpha one to base camp, come in mom. We have arrived!" Dear reader, memories like this last a lifetime.
There is another natural event you have likely never experienced before. You can sit protected from the elements overlooking in the covered screened porch off the side of the house. This means you can watch Spring thunderstorms churn and spark their way across the southeastern skies of Metro Atlanta.

Here's a quick summary.
The floorplan has five bedrooms and just shy of 3000 sq. ft. The guest bedrooms/office downstairs have access to a full bath making it ideal for family elders. The house is newly constructed with a high end chef's kitchen open to a large family room & formal dining. The home has a 1-car, attached drive under garage. The setting is private and there is expanded outdoor living space. The residence was designed by the city's best-known architects, Robert Koch & Chad Kamke. All you have to do is glance at plans to appreciate Koch & Kamke's trademark use of traditional exterior details mixed with floor plans suited for modern living that give their designs so much appeal.
Ask yourself one question.
Have you seen another house in a neighborhood of this caliber, with this much space, with quick access to a 7 acre City Park for $649,900? If not, what are you waiting for? Interest rates are at historic lows, and Decatur real estate prices have increased for 19 months straight.
The seller is represented by Ben & Joshua Keen at 404.270.9374
For the most up to date listing price or to arrange a no-hassle, private showing feel comfortable calling or text messaging Joshua at 404.538.5356 today. He's happy to help answer any of your questions about the home and help you discover why this is the home you've been waiting for.