10 Overlooked (and Easy) Ways to Prepare Your Home for Sale
Posted by The Keen Team on Monday, September 28, 2015 at 7:17 PM
By The Keen Team / September 28, 2015
Comment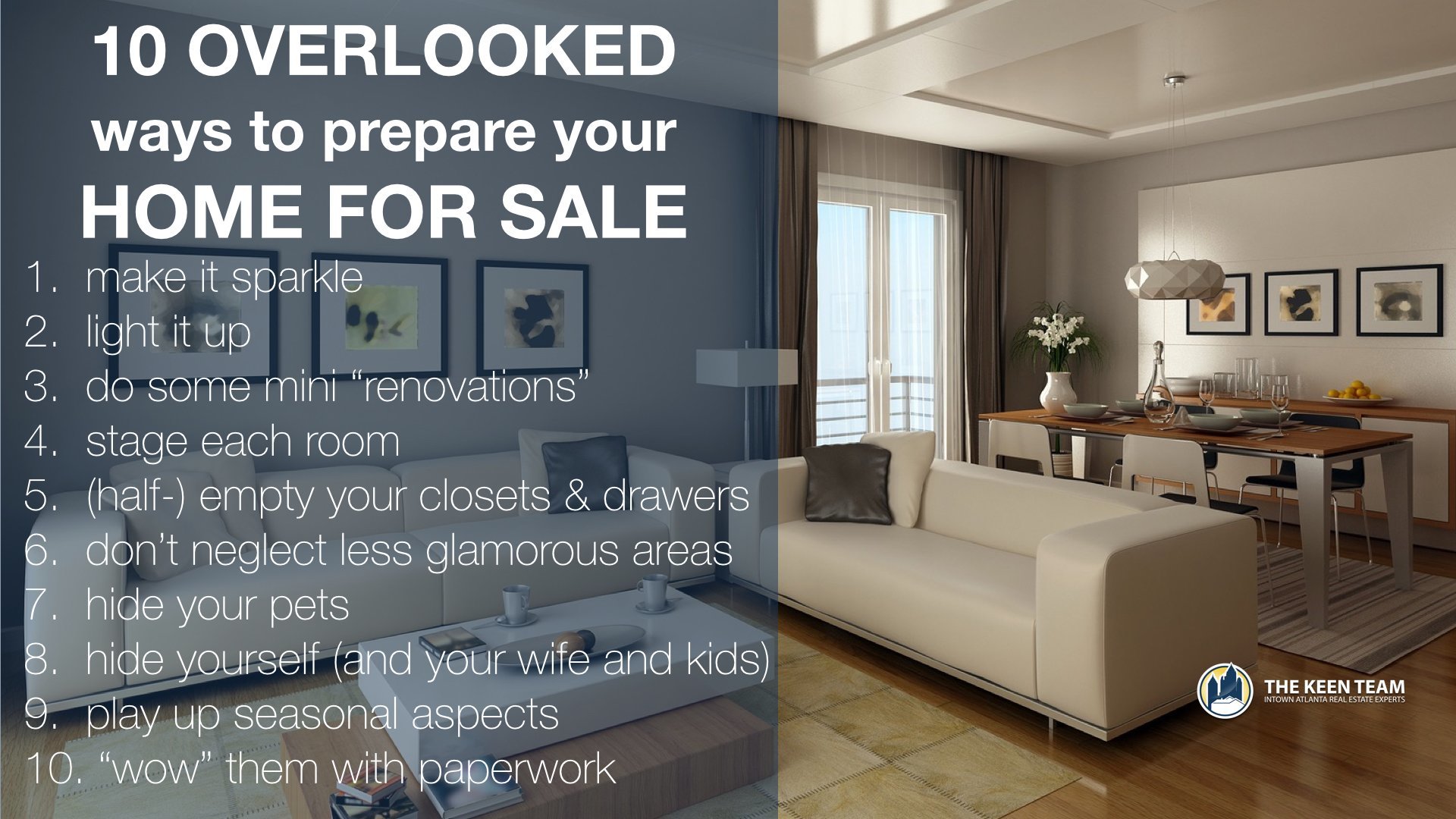 You want your home to stand out when you list it for sale, but you're not a design expert. You may watch HGTV on occasion to get some ideas, but every time you do, you feel overwhelmed. The average busy person just doesn't have the skill or the time to tackle most of the projects they show.
Fear not, intrepid homeowner — there are 10 easy things you can do to make sure your house impresses potential buyers, and you don't need a ton of time or an extensive tool collection to do them.
1. Make It Sparkle
It's easy to overlook the little things when you're getting your house ready for sale. You may clean the windows, polish the hardwood floors and put a fresh coat of paint on the walls, but sometimes the smaller details can make just as big of a difference.
Tiny details make a huge difference. Freshen up the baseboards and trim paint. Shine up hardware fixtures like door knobs and faucets. Even switching out dingy old switch plates for new ones (which you can buy for next-to-nothing at a hardware store) can add to the overall feeling of a more updated, modern room.
2. Light It Up
Buyers love natural light, and rooms that are light and bright feel more open, spacious and inviting. Wherever possible, open blinds and curtains to let the light in. If you have any shady spots in the room, place a table or floor lamp for extra illumination. And, needless to say, if you've got an evening showing, make sure all lights (including exterior lights) are on before buyers arrive.
3. Do Some Mini "Renovations"
You don't have to do a full-scale rehab to make a big difference in the way your space looks. You can repaint or reface the kitchen cabinetry, throw slipcovers over worn old furniture, or replace your heavy shower curtain with a clear one to make your tiny bathroom look bigger.
4. Stage Each Room
"Staging" is just a fancy word for rearranging your stuff in a way that helps buyers envision themselves creating a life in your home.
For instance, you can rearrange the furniture in the living room to create conversation areas. You can give the bathroom a spa-like feel by lighting vanilla candles and updating your worn towels for fluffy new ones in soothing blues and greens.
Staging is also a great way to give a "purpose" to odd spaces like that spare room you've been using as a dumping ground. (Move your pullout couch from the basement to stage the room as a guest room, for instance.)
5. (Half-) Empty Your Closets and Drawers
Buyers love storage, and if your closets and drawers are packed, it gives the impression your home doesn't have enough storage (even if the real problem is that you've simply got too much stuff).
Rummage through your closets, cabinets and drawers (kitchen, bathroom, etc.) and start boxing up anything you don't think you'll need between now and the time you move out. If it's summer, pack away all your winter clothes. If you're a bargain-hunter who's stockpiled 5 backup bottles of every toiletry in your bathroom, pack everything but the bottles you're currently using. Then store these packing boxes off-site – perhaps in the attic, the trunk of your car, or in a storage unit.
6. Don't Neglect Less Glamorous Areas of the Home
Everyone focuses on the "big" rooms — bathrooms, kitchen, living room, bedrooms. But buyers are looking at the whole house, so you should make sure the other areas present themselves well, too.
Brighten your utilitarian laundry room with a fresh coat of paint. Add racks and shelves to organize the junk in your garage. Spruce up the little patch of grass on the side of your house by adding a café table and chairs to create a quaint hideaway spot. Little touches like this tip a buyer from a "maybe" to a "yes."
7. Hide Your Pets
Not everyone is a pet person, so make sure Fido and Kitty are away when buyers are scheduled to stop by. Remove any tell-tale signs of pets, particularly smell and fur, although it also helps to corral all their toys and accessories into a tote placed discreetly in the back of a closet.
8. Hide Yourself
Remove any personal elements that will prevent a buyer from seeing the home as "theirs." Store away family photos, kids' artwork on the fridge and (as hard as it may feel) the hash marks in the doorframe that show your children's heights at different ages. Some buyers may find these touches cute, but others will find them to be distractions or even turnoffs.
You should also make yourself scarce during showings and open houses. Buyers feel pressured when the homeowner is present and may not be entirely honest about how they feel about the house—and their feedback is essential if your home has any stumbling blocks you've missed.
9. Play Up Seasonal Aspects
Keep your house comfortable and welcoming, whatever the weather — think A/C and cool refreshments during the summer months, and fireplaces and hot cocoa in the winter. You can also play into holidays with tasteful, nondenominational décor like an autumnal wreath and some pumpkins out front, or a mantle and staircase sprigged with winter greenery.
10. Wow Them with Paperwork
I know, I know… paperwork is hardly the stuff that "wows" are made of, right? But to a buyer on the fence about your property, having the right paperwork ready to go can be the magic final touch that seals the deal.
Hire a home inspection before you list your home to identify any issues that might cause a buyer to terminate a contract. Fix these issues before you list your home. If there's a repair you can't make, let buyers know upfront that you'll be offering a concession (like paying their closing costs) to cover other issues. Demonstrate documentation for all of this, and buyers will be impressed at your openness and willingness to work with them.
Having the product manuals and warranties for any appliances (including the furnace and hot water heater) shows buyers that the home has been well-maintained and you have nothing to hide.
If you really want to go "outside-the-box," you can consider a fairly recent new trend in home sales—writing an open letter to prospective buyers. While you don't want to hover over them in person saying why you love everything about your home, a heartfelt letter can help them see why you fell in love with this place and can help them fall in love with it too. You can highlight features like how great the big kitchen is for holiday gatherings, how much your kids love the school district (with an elementary school within walking distance), and more.